From the moment The Little Couple premiered on TLC in 2009, the show's stars Bill Klein and Jen Arnold have garnered millions of fans' hearts with their picture-perfect marriage and sweet family.
As the series' official description explains, Klein and Arnold "are just like your average couple — except for the fact that they're both under 4 feet tall! He stands at 4 feet and has a rare variation of a skeletal dysplasia called Spondyloepiphyseal Dysplasia (or SED) and has had more than 20 surgeries. She stands at just 3 foot 2 has a similar, and also rare type of dwarfism called Spondyloepiphyseal Dysplasia Type Strudwick, has had more than 30 surgeries — and yet this too is not what makes this couple unique."
The Little Couple documents all of their hardships and successes, as well as the adventures of their two adorable children, Will and Zoey, and is an undeniable smash hit. But there's more to this show than meets the eye.
It doesn't feature the family's hardest, most vulnerable moments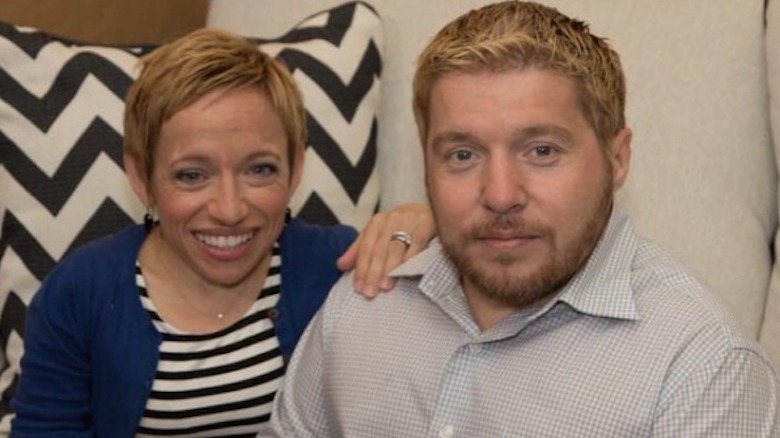 Any fan of The Little Couple would likely tell you that Klein and Arnold seem to have the perfect marriage and the perfect family. But as the couple's second memoir, Think Big, reveals, their hardest, most vulnerable moments aren't included in the show.
Like the emotional day in October 2013 when Klein returned home from India with the couple's newly adopted daughter, Zoey. Writing about the heart-breaking moment in Think Big, Klein revealed, "Our two-year-old daughter wailed next to the front door. I had just introduced Zoey to her new home for the first time, but she didn't want anything to do with it, and she didn't want to be near her new daddy."
While the couple was in New Delhi, India to adopt Zoey, Arnold was rushed back to the U.S. with a medical emergency. "Zoey had bonded with Jen, but not with me, and without her new mommy, she was inconsolable," wrote Klein. "Trying to soothe Zoey only made things worse. Her cries echoed throughout the house… Zoey obviously wanted and needed her mother. She wasn't the only one missing Jen."
All the birthday, anniversary, and milestone celebrations are staged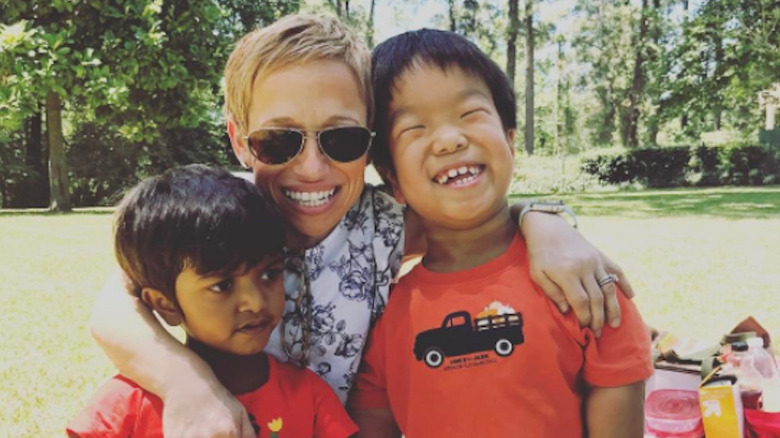 Although the family regularly celebrates special occasions like birthdays and anniversaries on camera, all that fanfare isn't actually real. The truth is, it's staged especially for the show. Maybe we should clarify a bit. Yes, the occasions themselves are legit, but as Arnold explained to Huffington Post in 2011, the family chooses to host the real celebrations when cameras aren't rolling.
"We try to remind each other that dinners out with the cameras don't really count and that we still need to have a separate celebratory dinner for us, for birthdays and anniversaries," she said. "Even though we celebrate on camera, we do something separate as well."
It makes sense that a family so much in the public eye would want to keep some occasions and special events private, so we can't say we blame them. Plus, it means double the celebrating (and we're assuming that also means double the cake).
There's an important reason why the kids aren't constantly on camera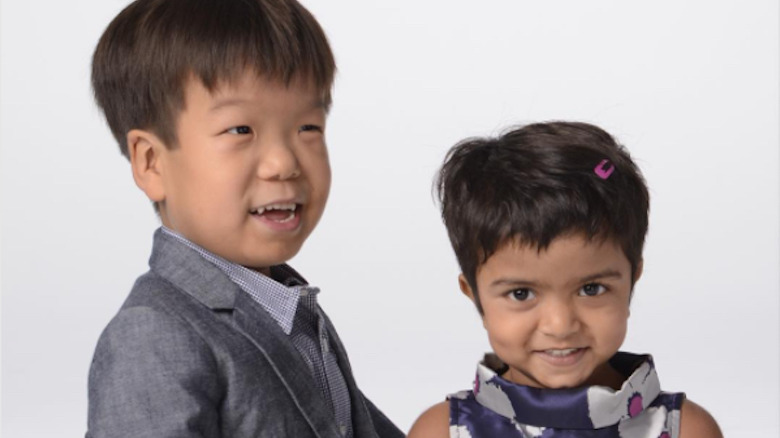 Despite both William and Zoey being a major (and super cute) part of the show's ongoing success, they're purposely not featured on camera too much, even though Arnold admitted in 2015 that the kids "are pretty whatever about it. In fact, if a camera gets in the way of what they're trying to do, they'll go, 'Move! Move, move, you're in my way.'"
That being said, Klein went on to tell Glamour in that same interview that "the large majority of what we do is off-camera because we want them to grow up in a normal, comfortable environment and experience what they want to experience without it being something that they have to do in front of an audience."
This approach sure seems to be working, as Arnold added that they "haven't heard from their teachers that they even talk about it [at school], partially because I don't think they're self-aware."
It has turned the couple's home into a target for fans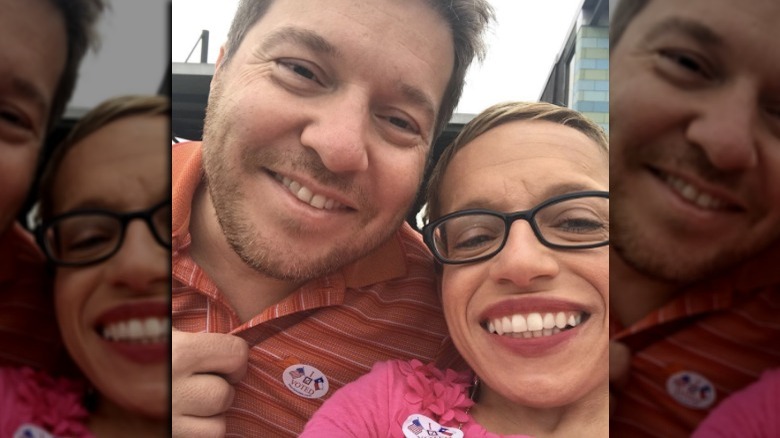 Much of the action on The Little Couple occurs at their home, so it is regularly featured on the show. With all that exposure comes recognition — a lot of it. As Klein revealed, it has actually resulted in many fans dropping by their front steps uninvited.
"We've had people come to the door or tear pages out of books and write full-length notes and stick them in our mailbox," he told Glamour. "I actually almost gave one lady a heart attack because I went to get the mail, and she was on my doorstep. I opened up the door while she was right there writing her note, and she fell over and all that stuff. We've had people come on Christmas Eve and all sorts of occasions."
As flattering as the gestures of love may be, they do come with a slight dose of apprehension. "Everyone has been so nice, but when someone knocks on your door, you do wonder if they are well intended or not and maybe get a little nervous," added Arnold. "So we do of course prefer when they send us a letter, since when we are at home that is obviously our private time… I do get it though because people watch us and feel like they know us!"
The show has gotten Arnold and Klein criticized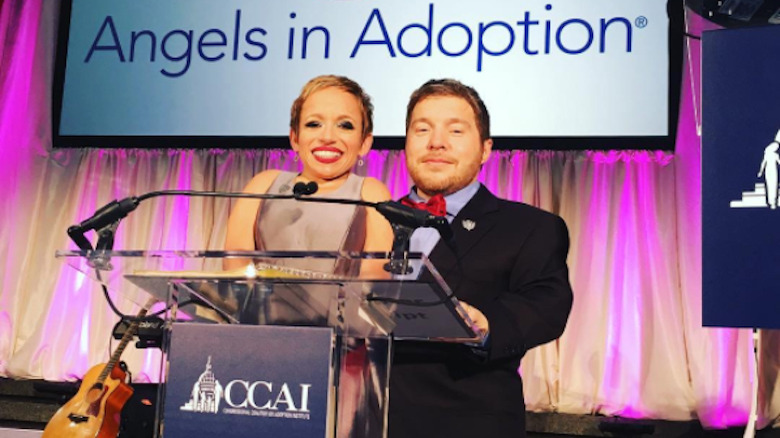 The Little Couple has garnered countless fans over the years, averaging a whopping 2.1 million viewers per episode back in 2013. Despite its popularity, the show's stars have endured their fair share of criticism — especially regarding their parenting. When Arnold and Klein first announced they were adopting not one, but two kids — 3-year-old William from China and 19-month-old Zoey from India — they received a deluge of "comments on how crazy it is to be adopting two kids at once."
The couple explained to The Wrap that it wasn't planned, but they feel it was meant to be. When Klein and Arnold started the 11 month-long adoption process for William in 2012, they had no idea that they would also receive a call from Little People of America about adopting Zoey — they had actually put their names on the LPA waiting list four years earlier.
"Friends of ours… have two, three, some even four kids… they haven't killed each other yet," Klein joked while speaking with The Wrap. Arnold added, "[It's] like getting pregnant with twins, it's not something we planned on. But hopefully, it's a blessing that we'll figure out a way to handle."
Bill Klein battled depression and suicidal thoughts in college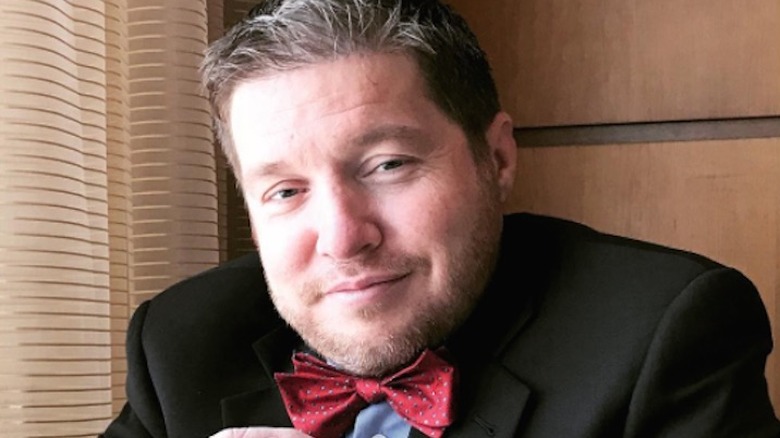 Despite everything going on in their lives, both in front of the camera and behind the scenes, Arnold and Klein are known for sharing a positive message and showcasing an uplifting outlook on life on their show. It's for that reason no one was really expecting Klein to step forward and admit to having battled with depression and suicidal thoughts during a difficult time when he was younger.
It was during a 2015 HuffPost Live interview (via Us Weekly) that Klein opened up about his past struggles with mental health, saying that after years of bullying, he "reached the deepest [pit] of depression and that brought me to the brink" while he was in college. He went on to reassure fans that "life has gotten better and better every single year," but admitted that the battle never truly ends, revealing that he's "had bumps along the road every year to deal with."
Jen Arnold secretly went through a heart-breaking miscarriage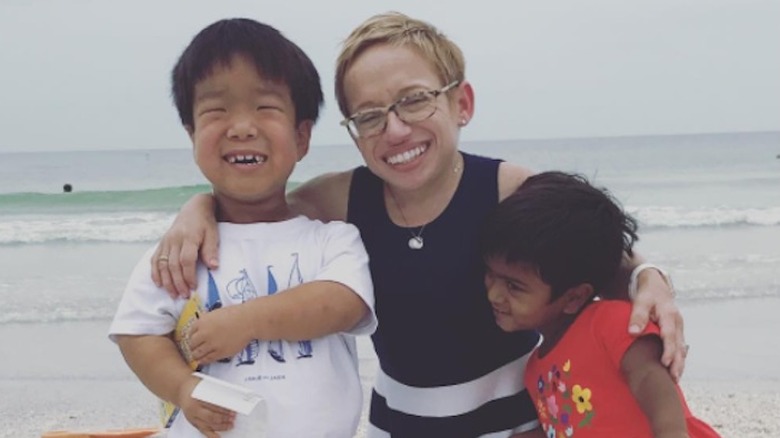 Soon after Arnold and Klein adopted their son Will from China and while they were working everything out to finalize the adoption of their daughter Zoey from India, the couple got some surprising news. "'I'm pregnant,' [Jen said in] complete and utter disbelief," Klein recalled in the couple's 2016 book, Think Big: Overcoming Obstacles With Optimism. "After going through two years of fertility treatments and surrogacy followed by miscarriages, this was unexpected, to say the least!"
Unfortunately, they later learned the heart-breaking news that the pregnancy was not viable. Even so, Klein couldn't help but sum up his life with Arnold so far as an "incredible and crazy and extraordinary road full of wonderful surprises." One that their two adoptive children make all the more incredible. "I will see Jen's beautiful smile, and Will's never-ending joy, and Zoey enthusiastically hopping and skipping along, and just think, 'When did I win the Powerball of life?'" Klein concluded.
The show has gotten some negative feedback from viewers with disabilities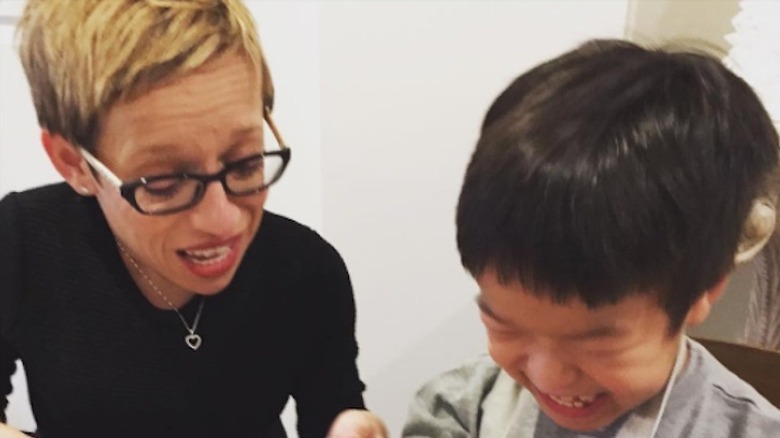 In a blog post titled Are Reality TV Shows Starring People With Medical Conditions Exploitative?, August Pritchett, a student at Armstrong State University, argued that "reality shows on modern television that feature such people are not much different than the circus freak shows from a hundred years ago." Pritchett, who herself has a disability, pointed out that many TLC shows, such as Little Women of LA, "tend to focus on the fact that these people are different from those who are 'normal' in order to convince viewers to watch them."
Honing in on The Little Couple, she applauded them for "educating viewers about dwarfism," but warned that even shows with good intentions can have a negative impact. "There's the risk of 'inspiration porn,'" she wrote. "Inspiration porn is a term applied to situations when a disabled person is sooooooo inspiring because they do normal things," she added, concluding that "having reality programs that feature those who accomplish so much despite being disabled could become inspiration porn that makes viewers pity and objectify them."
Getting approval to film at Arnold's place of work wasn't easy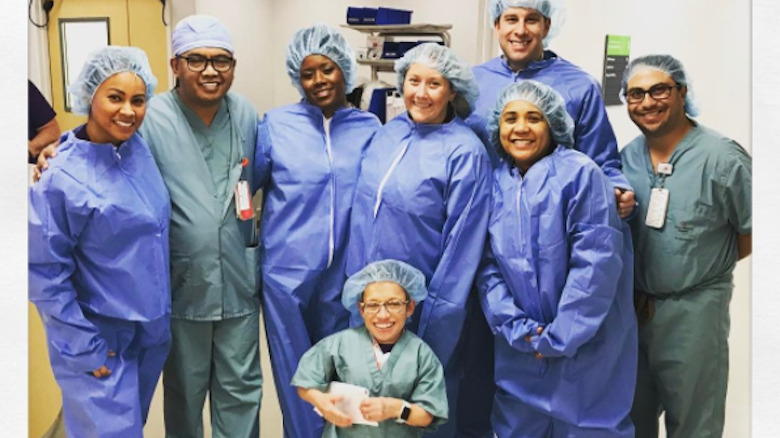 As fans of the show know, Arnold worked as a neonatologist at the Texas Children's Hospital and sometimes she shot scenes for The Little Couple while at work. But as she revealed in a 2013 interview with Glamour, it took a lot of time and effort to convince the hospital to allow camera crews inside.
"When the show became a reality, we got in touch with the PR folks there, but there was a lot of hesitation," she told the magazine. "As a hospital, they have a lot to lose, and they wanted to make sure it would show the hospital in a good light."
"A lot of conversations took place with our production company, LMNO, and the hospital administration, and they were able to come up with an agreement," she continued. "LMNO was great and had done shows in other hospitals, so I think everybody felt more comfortable."
They packed up and moved to Florida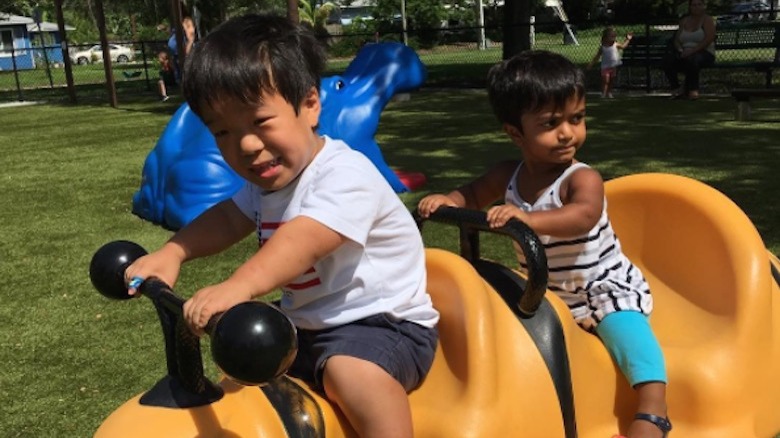 Since the first episode, Jen Arnold, Bill Klein, and their two kids lived in Houston, Texas. This is where Arnold worked as the medical director of the Simulation Center at Texas Children's Hospital, as well as the assistant professor of pediatrics in the Division of Neonatology at Baylor College of Medicine.
However, a job opportunity spurred the family to pack up their belongings and make a big move to Florida in July 2017! Arnold took on the role of medical director at the Simulation Center at Johns Hopkins All Children's Hospital in St. Petersburg. As the hospital points out on , the move down South is a homecoming for Arnold — she was born in St. Petersburg and first came to that hospital as an infant herself in the neonatal intensive care unit. She and Klein even tied the knot at the St. Petersburg's St Mary Our Lady of Grace Church.
In a 2017 statement, Arnold expressed excitement about the move. "I'm thrilled to return home to Florida," she said. "The opportunity at Johns Hopkins All Children's is a perfect fit personally for me, my husband and two kids and professionally with the growing education and research resources at the hospital."
You won't believe how stunning their Houston home really is (and how much it's worth)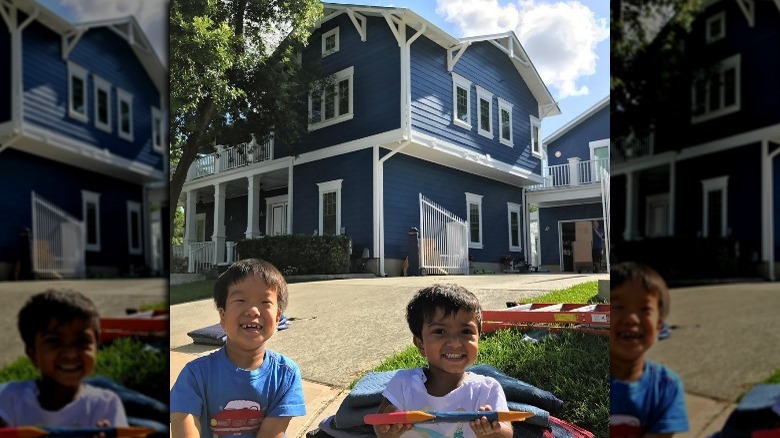 As fans of the show will know, while in Houston, the family lived in a stunning property. It was close to Arnold's work, and was seriously spacious with plenty of light. Viewers of the show likely don't realize just how amazing the couple's home was, though, as not all of its unique features were highlighted on camera.
When Arnold and Klein decided to make the move out of Houston, they listed their four-bedroom, six-bathroom, 3,756-square-foot home with an impressive $1,048,000 price tag. Described as an "exceptional quality custom-built smart home" in the real estate listing, the envy-inducing abode features countless highlights — like a "media room with beverage center," a wine grotto, a mud room and a "resort style pool/spa area with water features, outdoor kitchen and fire pit." It even has additional "detached quarters" that clock in at 477 square feet, and include yet another kitchen and full bath. Wow!
They had serious legal drama surrounding their show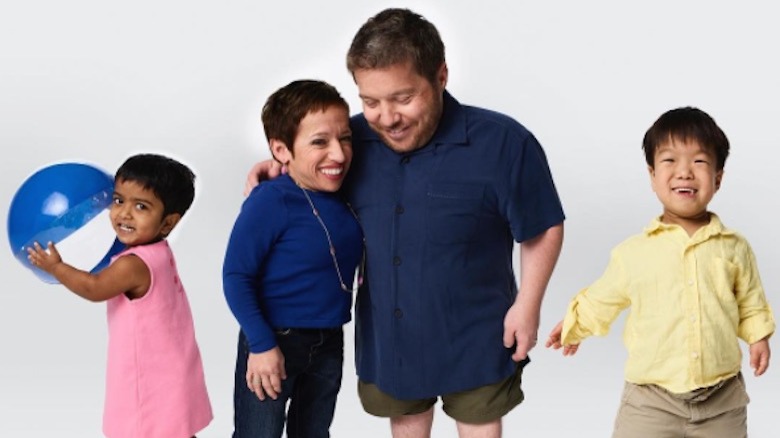 Despite The Little Couple's impressive ratings, the show's future became uncertain when shooting stopped abruptly following the eighth season due to a nasty legal battle between Discovery Communications, the company that runs TLC, and LMNO, the independent production company producing the show. According to Deadline, it started in June 2016 with a $7 million lawsuit, and spiralled out of control with "an extortionist accountant," embezzlement, and falsified records. It was a whole big mess — and the stars of The Little Couple were stuck in the middle.
As the battle raged on, Arnold and Klein finally had enough. The Hollywood Reporter& revealed that in May 2017, the couple filed papers in a California federal court asking for "compensatory damages, punitive damages and emotional-distress damages." Despite the ongoing dispute, fans were finally able to breathe a sigh of relief; the show would be returning to TLC, and a premiere date was set for September 19, 2017.
The complicated, headline-making legal struggle finally came to an end in March 2018. Although the exact terms are being kept under wraps and will remain confidential, as Variety reported, the nearly two-year legal struggle has ended in "an amicable settlement" that (perhaps surprisingly) is "to the mutual satisfaction of both parties."
The whole family is not afraid to get political
Between working, raising a family and filming a hit reality show, Arnold also finds time to get political. In July 2017 she headed to Washington D.C. where she spoke out against "proposed cuts to Medicaid" and joined "the Children's Hospital Association for a day of meetings with members of Congress." As reported by the Washington Post, this included "confabs with Republicans who have supported the proposed cuts to Medicaid."
"The timing is critical," Arnold said of her lobbying. "The BCRA is scary — it would cut $43 billion in Medicaid funding, which would more negatively affect kids than adults. We have to speak out. We have to talk to our congresspeople."
And she's not the only one in the family getting political! Arnold was joined by her hubby and kids who weren't shy about getting involved, as she documented on Instagram. "Today I get to help #SpeakNowforKids! Learn why children's health care is so important," she wrote, posting a photo of Zoey followed by one of Will, which she captioned, "Will on The Hill! You can advocate today to! Contact your members of Congress and tell them to protect children's health care!"
Read More: https://www.thelist.com/74574/untold-truth-little-couple/